Understanding Grief and Loss
Health & Wellness | February 24, 2021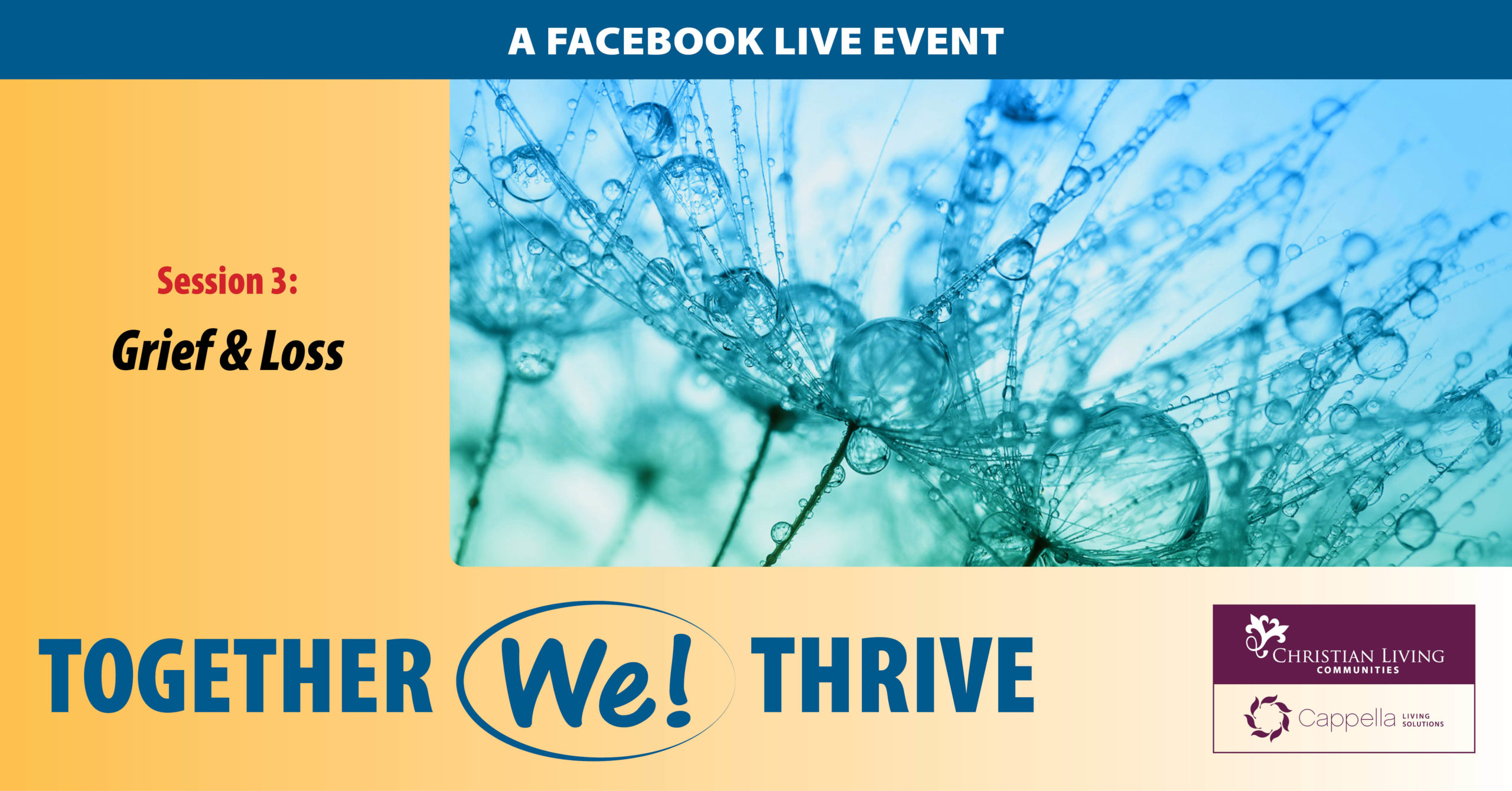 "Stories are the only satisfying way I know of exploring the paradox that people can become stronger and more whole as physical weakness becomes overwhelming and life itself wanes." – Ira Byock, MD, Dying Well
In the third installment of our Together We! Thrive support series, Jim Kok, Executive Director of Chaplain Services for Christian Living Communities shared his experience and tips for coping with grief and loss. You can view the video replay on our Facebook page here. The next live event will be on March 9th at 2:30 pm MST. All of us experience losses in our lives, each of which, great or small, cause us to grieve. For most of us, this past year has been especially difficult and filled with losses, and perhaps we haven't taken the time, or have been too overwhelmed, to think about those losses and to grieve adequately. This session will remind us of what causes grief, how that grief manifests in our emotional, physical, and spiritual lives, and focus on healthy practices and resources to address the turmoil that grief can cause in our lives.
Jim Kok has served as a Chaplain for CLC since 1993, and is presently serving at Holly Creek. He currently supervises a team of six Chaplains. Issues of grief and loss are central to the work that he does, and he has been privileged to learn from others as we walk together through times of loss and difficulty.
Grief and loss is the painful reality that knows no bounds throughout all of humanity. Though we share the truth of this, we experience it in uniquely personal ways. Grief defined: The acute pain that accompanies loss. Because it is a reflection of what or who we love, it can feel all consuming. Grief is not limited to the loss of people, but when it follows the loss of a loved one (or a resident we cared for) it may be compounded by feelings associated with other losses (complicated grief).
"Grief is neither a disorder nor a healing process; it is a sign of health itself, a whole and natural gesture of love. Nor must we see grief as a step toward something better. No matter how much it hurts-and it may be the greatest pain in life-grief can be an end in itself, a pure expression of love." Ira Byock, MD
Some Causes of Grief:
Death of a loved one or pet
Loss of independence/health issues
Childhood or adult trauma
Divorce
Loss of a job
The symptoms of grief are manifested in ways that touch our physical, cognitive, emotional and spiritual experiences. They include:
Physical/Cognitive Emotional/Spiritual Feelings
Problem with sleep-too much/too little -Overwhelmed/hopeless/powerless
Change in eating habits-too much /too little -Anger, irritability, sadness/anxiety
Change in sexual desire-more/less -Detached/numb
Headaches, nausea, dizziness -Very little capacity for extra stress
Addictions of any sort -Hypersensitive/insensitive
More than usual negative thoughts -Empty/alone, unable to connect to God
Healthy responses to Grief/Loss
First of all, allow yourself to feel! You are not alone in this season and you are not "losing it!" There are resources available. The primary resource begins with each one of us, listening to one another and sharing our unique journeys. Things you can do for yourself:
Eat healthy and intentionally find time to exercise.
Intentionally respond to your individual sleep needs (sometimes your Dr. will prescribe a short-term sleep aid).
Pursue quality social support. Avoid isolating yourself.
Find things that make you laugh or bring joy (music can be very effective).
Make time for yourself to be still, cry, journal or pray. Find that place that works for you.
Take some time off just to make space for yourself.
Reach out for help.
Resources:
CLC Employee Assistance Program offers free counseling and other resources for anyone in need of additional support.
Websites:
Assistance: https://whatsyourgrief.com/
Support/education: https://www.heartlightcenter.org/
Covid Crisis: 7 Essentials for Navigating Uncertainty (free download): https://www.garyroe.com/
Books:
Dying Well: Peace and Possibilities at the End of Life, Ira Byock, MD
Good Grief: A Constructive Approach to the Problems of Loss, Dr. Granger Westberg
It is our hope and prayer that you will find some time in the midst of your busy days to do this very important work, remembering, as Dr. Byock says, doing the work of grief is a sign of health and an expression of love for ourselves and those we miss. Know that we are all in this together to love, support and find community in all our mutually challenging seasons of life and death.