Nathalie Knopp Discusses the Need for PPE in Senior Care
In the News | April 15, 2020
On 4/13, CLC's Nathalie Knopp discussed the importance of Personal Protective Equipment (PPE) for Senior Care staff during this critical time in healthcare. The amount of PPE required to care for a single senior living community resident in clinical isolation may surprise you; the following chart illustrates the urgency with which the senior living community currently requires PPE: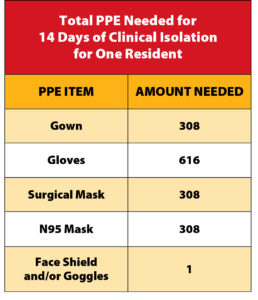 Watch the piece from KDVR-Fox 31 below:
If you wish to donate PPE to any of our communities please contact Nathalie Knopp at nknopp@clcmail.org. CLC-CLS thanks you for your support.