Movement 4 Life
It is not new to hear that 2020 was not a great year, but for senior living communities it was a scary and stressful year. As many of you have noticed in your own lives, Covid-19 has disrupted many of our fitness and daily movement routines. This disruption has led to changes in our physical and mental well-being and has contributed to a significant increase in resident falls in our communities. Christian Living Communities and Cappella Living Solutions saw a problem and we decided to come up with a plan on how to fix it. We decided to get creative and come up with our Movement 4 Life campaign that kicked off January 1st of this year. This campaign promotes the mental and physical health for older adults in our communities and will run for all of 2021 as we heal as a family. Our goal is to get older adults moving again to increase muscle and decrease some of the mental and physical challenges that older adults face. Regular movement has been shown to:
• Reduce falls
• Improve circulation
• Decrease wounds
• Improve strength & balance
• Improve physical abilities
• Improve mental health
• Increase self esteem
• Be an excellent individual or group activity
• Enhance quality of life
What is NEAT?
NEAT, or Non–Exercise Activity Thermogenesis occurs with every day activities that we perform. This would include walking around the house, cleaning the house or playing with your dog. Anytime you are up and moving instead of sitting or lying down would be a NEAT exercise. As we grow older we tend to sit or lay around a lot more and not get this natural daily NEAT exercise in. That is why NEAT is important for improving physical health for older adults.
Why is NEAT exercise important?
Research from Harvard Health has shown that if we sit less and move more, we will in return live longer. Moving more throughout your day can help increase your metabolism. This can help you maintain a healthy weight as you age. Movement also helps to keep inflammation down. Inflammation increases when we age. Moving and getting NEAT exercise in can help older adults keep their inflammation down and maintain a life with less pain and fewer health complications. Increasing NEAT along with a regular exercise program can improve quality of life and reduce the risk of falls.
Movement 4 Life Exercises
Getting in natural exercise throughout your day with NEAT exercises is important, but it is also important to get a workout in and focus on specific exercises to improve your body's muscle mass. Our Movement 4 Life campaign focuses on four movements recommended by our PTs and physical fitness experts. These exercises help increase physical balance, strength and flexibility. Practice these 4 movements daily, and increase movements incrementally each week.
Exercise Number 1: Marching in Place
March in place for two minutes, bringing your knees to mid-thigh level with each move. You can put a piece of tape on the wall next to you to mark how high you should raise your knees. Count how many times your right knee hits the mark within the two-minute period.
The average adult, ages 60 to 79, should be able to perform 68 to 115 marches per side.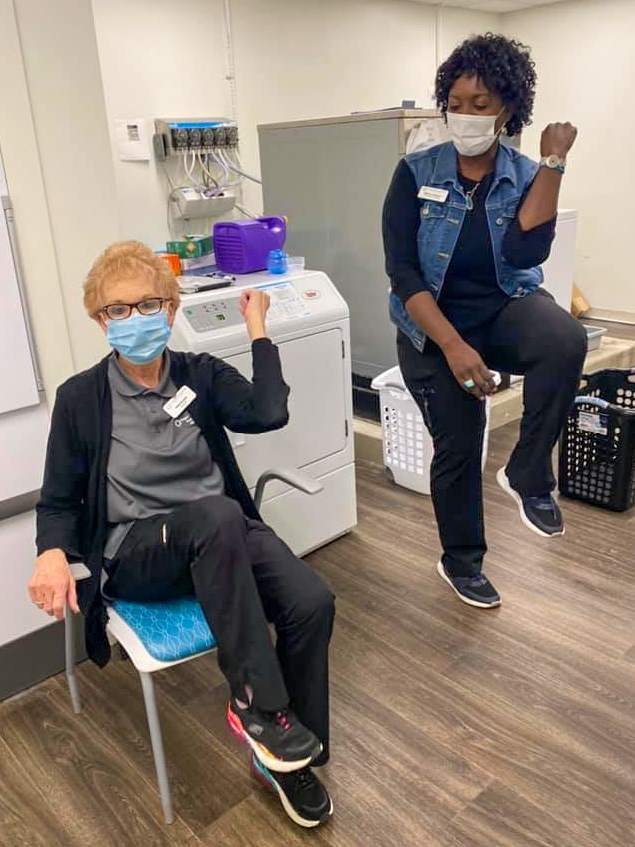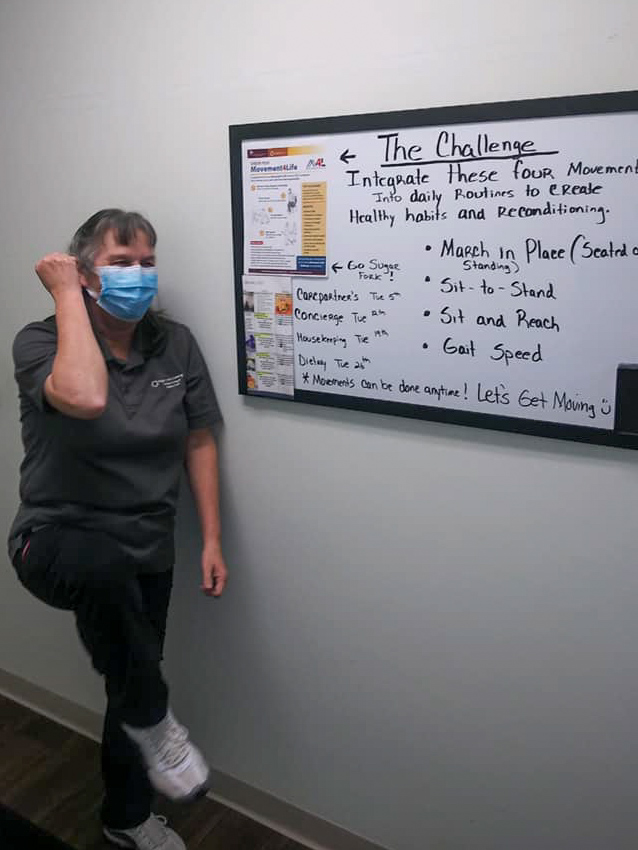 Exercise Number 2: Sit-to-Stand
Sit on a sturdy chair with your feet hip-width apart and your arms crossed in front of your chest. From here, press through your heels to stand up. Count how many times you can stand up and sit back down in 30 seconds.
The average adult, ages 60 to 79, should be able to perform 10 to 19 reps.
Exercise Number 3: Sit-And-Reach
Sit on a sturdy chair with your feet hip-width apart. Extend one leg straight out in front of you, toes pointed toward the ceiling. The opposite foot should remain flat on the floor. With one hand on top of the other—and your back straight—reach as far toward your toes as you comfortably can, making sure not to bounce to go deeper into the stretch. Hold the farthest position for two seconds. Perform the test twice on both sides, and record your best result for each leg.
The average adult, ages 60 to 79, should be able to reach within four inches of the toes to five inches past them, no matter which leg is forward.
Exercise Number 4: Gait Speed
Stand with your feet at shoulder width and begin walking at a comfortable pace for 1 minute. See how far you can go within 1 minute. The goal is to increase your distance each week.
The average adult, ages 60 to 79, can walk an average of 2.5 miles every hour.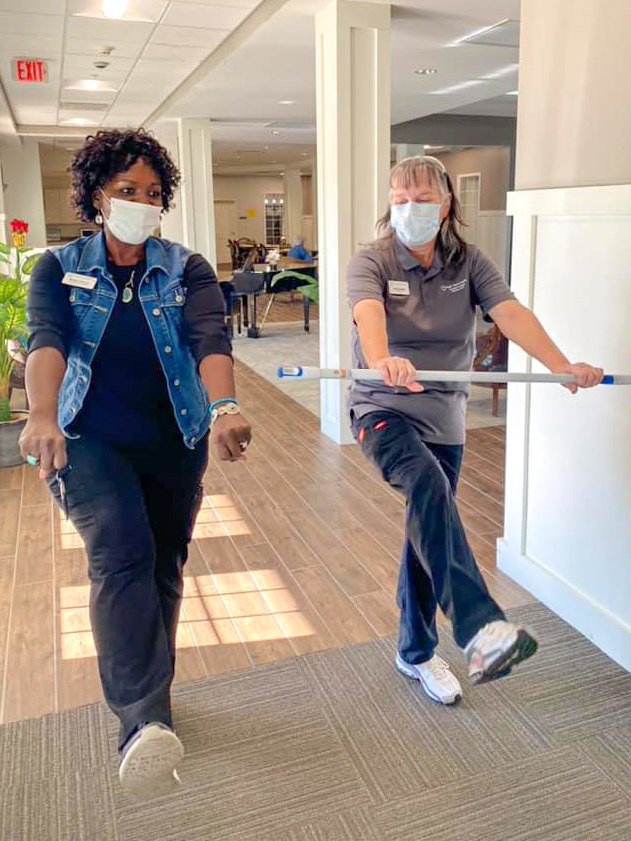 Take Charge of Your Health
With the new year starting, now is a great time to take charge of your health. With the help of our team members we want all residents to focus on these four exercises every day and track their progress together. We hope this program will help residents gain muscle mass and improve mental and physical health for the adults in our communities.