Most Communities are 100% Compliant with CLC Vaccine Requirement
Health & Wellness | October 4, 2021
Communities and services owned by Christian Living Communities (CLC) have highly vaccinated teams serving older adults and their families. In early August, CLC made receiving the COVID-19 vaccine a requirement of employment for five of our owned communities and our Rhythms Home Care Services and the CLC Support Office. The deadline to be fully compliant with the requirement was Friday, October 1st.
As of Monday, October 4th, the group has reached a 99% compliance rate with the vaccine requirement, meaning 99% of our team members are either vaccinated or have an approved exemption!
This means our dedicated team members have stepped up to protect our communities and services by becoming vaccinated, which is our best defense against the COVID-19 virus.

In compliance with the Americans with Disabilities and Accommodations Act (ADAAA) and the Equal Employment Opportunity Commission (EEOC) team members were able to apply for an exemption under the law for either medical or religious reasons.
When considering these exemption requests, the human resources team used a thorough, non-biased, and confidential process encompassing national best practices. As a result, some were approved, and a few are still in the review process.
Team members who received an exemption from the vaccine requirement must continue regular extra testing, be screened daily for signs and symptoms, maintain six feet of social distance when possible, and continue to always wear a mask.
In all, less than 10 team members either left their position or are being terminated due to the vaccine requirement.
New associates joining the organization, will need to have at least their first dose of the COVID vaccine at the beginning of their employment with plans to get their second dose, unless they received the Johnson & Johnson one dose vaccine.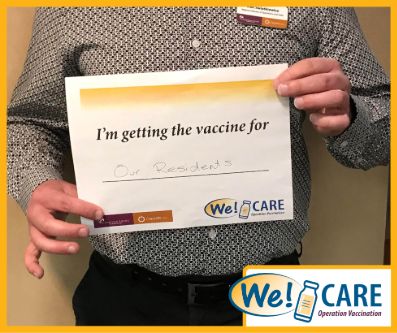 "We are very proud of our team," said CLC President and CEO Jill Vitale-Aussem. "We Care! About Each Other is one of our most deeply held values as an organization. The response by the team to this vaccine requirement speaks volumes; our organization cares deeply about serving older adults, protecting each other, and doing our part to bring an end to this pandemic."
You will notice a column above called "No Record" these are just a few team members whose status we are trying to verify at this time.
Our community in Grand Junction had a staggered start to their vaccine requirement and is following the Colorado Department of Public Health and Environment (CDPHE) mandate to be fully vaccinated by the end of October.
CLC continues to follow federal, state, and local virus mitigation efforts, including having team members in our regulated neighborhoods wear a fresh mask upon entry to our communities each day for their shift.
Thank you to our residents, families, and friends for the words of encouragement and support. Together we will get through this.