At Christian Living Communities, we strive to create communities where aging is honored and celebrated. That's most evident through the stories of residents, clients and team members.
A small American flag and patriotic streamers decorate the door to Al's Clermont Park apartment. Inside are stacks of books. Photographs adorn his wall, including a large picture of his two daughters, and another of Al and President Lyndon B. Johnson.
His lifetime includes several brushes with celebrities – Mister Rogers, Hugh Hefner and Willie Mayes. Opportunities that occurred during a nearly 40-year career in public broadcasting working at PBS stations sharing people's stories as a writer, producer and director.
That was after the Korean War. Al wasn't drafted; he volunteered and served as a cryptographer stationed in nearby Japan.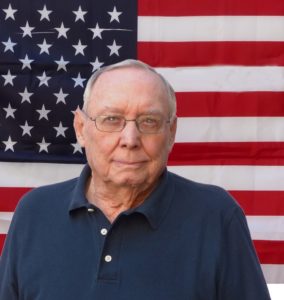 Paying dues to his country and others who fought for our country is important to Al: "Simply stated, I love America."
Al also loves people, their stories and their uniqueness. His special gift? Recalling names and details about those he meets. Even the guys he served alongside during the war 60 plus years ago.
"When people tell me things, I pretty much remember them."
Al moved to Denver in 2013 at the behest of his youngest daughter, Erin. Al had been living on his own in Illinois, far from her and his daughter, Laurel, in Connecticut. Al's wife, Lois, passed from cancer after just 22 years of marriage.
Erin conducted meticulous research to find the best senior living community in Denver for her Dad.
Clermont Park topped the list.
Sadly, just four years after moving to Denver, Al's daughter, Erin, unexpectedly passed away in her sleep.
Al had no other family nearby.
A gregarious soul, it didn't take Al long to get acquainted with many of his neighbors after moving in. He looked for common interests, like others who were veterans. He's also gotten to know many more neighbors after he took over the monthly resident birthday celebrations four years ago.
Before his involvement, Al didn't find the birthday celebrations very honoring. Residents gathered, names were read and a few cookies were placed at each table on a platter.
Today, Al and a committee of residents who host the celebration, have birthday honorees sit together. He reads their personal bios. There's ice cream and cake, singing and a chance for birthday celebrants to add to their narrative.
Making people feel special is important to Al as illustrated not only by the birthday celebrations, but his involvement with veterans at Clermont Park.
In the past 6 years, there have been 95 veterans who have called Clermont Park home. Many have passed, but they continue to be remembered.
Al, along with his neighbor and fellow veteran Fran Shedd, make sure of it.
Each Memorial Day, Fourth of July and Veterans Day, the two team up to stage special holiday programs. Fran handles the photos and graphics; Al takes care of producing the show.
There are typically songs sung by a fellow resident, a slide show of all the veterans, and the opportunity to be recognized.
"Clermont Park is a great place to live," says Al. "You can participate as much or as little as you want in community activities. You can meet as many people as you like, and they are generally open, so I've made a lot of friends in the time I've been here. "
If you believe, like we do, that older adulthood is filled with purpose, passion and possibilities, consider supporting Christian Living Communities today.
Your gift enhances community programs, provides assistance to qualifying older adults who have outlived their financial means and supports team members, who not only serve and care for residents, but form meaningful relationships.
Thank you for your generosity and faithful support. You bring our mission to life.