50 years of creating communities where aging is honored and celebrated.
It is our 50th Anniversary celebration week at Christian Living Communities. Team members, residents, families, friends and business partners are gathering for a series of celebrations. As we celebrate, we also recommit ourselves to the sacred work that began more than 50 years ago, below is our story and here are some thoughts from Chaplain Jim Kok during this celebration week.
The Beginning
The story of Christian Living Communities begins in the late 1960's, when the Board of Directors for Bethesda Hospital made the difficult decision to close their Continuing Care Unit, which had been providing long-term care for seniors.
With hard work, a lot of prayers, goodwill from others, and of course, the grace of God, a small group of dedicated community members made up of the Reformed and Christian Reformed churches, as well as members from the Bethesda Hospital opened the University Hills Christian Nursing Home on May 7, 1972. They started with just two thousand dollars in the bank. Yet, what they lacked in funding, they made up for in determination and love.
"What can you do with two-thousand dollars, even back then 50 years ago, not much". So there was some struggling… it was good that Bethesda came on board… it all worked out well, never had doubts… a lot of prayer went into it. God led it all the way, without him it probably wouldn't be here today."

–Earl Lammers, the liaison between the Bethesda and University Hills Christian Nursing Home Association, former board member, and current Clermont Park resident
A plea for support went out in early 1970 by way of advertisements in The Banner and Church Herald magazines that offered non-secured "promissory notes." Constituents overwhelmingly responded by purchasing notes totaling $627,000.
It was kinda of fun as well bringing on the sweat, a few tears sometimes, but we seemed to be blessed with success."

– Elmer Houtsma, original nursing home administrator and former Clermont Park resident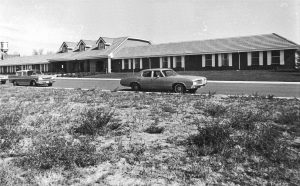 Construction began and those early volunteers, board members, and founders poured a lot of themselves into building University Hills Christian Nursing Home. Contractor Don Jeltema essentially built the 62-bed nursing home at cost.
"It was his vision to provide for the elderly . . . he knew older people don't like to be put on the shelf."

– Dottie Jeltema, original volunteer, wife of the former Don Jeltema, and former resident of Someren Glen

"We would go and sweep the floors so it would be clean for the next day and when the windows got put it we went and washed the windows and when the furniture was brought over that had been stored in a barn we washed all the furniture down – so it was just exciting, we could see the progress we were making, they were such good memories."

– Mary Ham original volunteer, wife of the former Rod Ham who served on the original board, and current Clermont Park resident
Visionary Then, Visionary Now
A window for every resident – sounds common, but even today some skilled nursing communities are built with companion suites that have beds side by side, with only one window for residents to share. In 1972, with dignity and respect as the cornerstone, our founders ensured a window for each person to enjoy fresh air and a beautiful view.
Advocacy is also at the foundation of CLC. Instead of 'Mr. Smith Goes to Washington", we had Elmer Houtsma Goes to Washington. In the '70s, Congress passed legislation mandating each nursing home must have a Medical Director – little direction, no provisions for funding, legislation without a nod towards implementation. Mr. Houtsma, our first administrator, was relentless in his advocacy for nursing home rights and influenced the further clarification and financial support for the start of programs.
Elmer Houtsma also signed CLC on as an early member of a statewide senior care advocacy group then called the Colorado Associate of Homes for the Aging (CAHA), now known as Leading Age Colorado. CLC's faithful support helped Leading Age grow from just a few care providers to the 200 strong members it is today.
CLC helped pioneer the assisted living option in the state of Colorado. It was among the first to develop a care level offering help with dressing, medications, and meals to seniors who didn't fit skilled nursing criteria but weren't safe at home. CLC was also one of the first organizations to introduce Life Plan Communities in the Denver metro area.
Jubilantly Moving Forward in Our Golden Jubilee Year
In the spirit of our founding, Christian Living Communities continues to look at dignity in the details. Instead of windows, it is details like choice dining and resident-directed services. CLC is one of the national leaders in providing what is known as person-directed care and a citizenship culture. This means the organization sees itself as a partner to older adults in supporting autonomy, purpose, and true belonging, in an age-positive and ability-inclusive environment. CLC also continues its presence in the national discussion with executive leadership serving on multiple advocacy committees.
By creating a consulting and management division known as Cappella Living Solutions in 2014, CLC also looks to serve more older adults in need of our care and services. Through this work, CLC has extended its mission reach outside of Colorado to mission-aligned for-profit ownership groups by serving as a third-party manager.
As of this May, CLC touches the lives of more than 2,000 older adults daily at 13 senior living communities in three states. In addition, CLC owns and operates Denver-based home care service, Rhythms Home Care, and is revolutionizing aging services with programs, services, and care that honor and respect older adults more than ever before with purpose-filled living.
The last few years have been very difficult; weathering the global COVID-19 pandemic, national workforce shortages, and the rise of inflation are all difficult waters to maneuver. But we know, as it was in the beginning, it is now, we can do hard things.
"We know from the stories of those who were part of the founding that people came together, overcame obstacles and did what needed to be done to ensure that the vision of University Hills Christian Nursing Home would become a reality. That steadfast faith and commitment to our organization's important work and mission have led CLC to weather the storms and impact the lives of thousands of people over our 50 years of service."

– Jill Vitale-Aussem, current CLC President & CEO
As it was then, it is now, and it will be in the future – CLC is an impactful organization.
Christian Living Communities remains a locally owned and operated, faith-based non-profit that is committed to creating a culture of belonging for everyone, residents, team members, and families. Conservatively we estimate we've served more than 25,000 older adults and their families in our 50 years of service.
We are humble and we are grateful for the gift we received; a fantastic organization. We are resolved to continue building on the foundation laid long ago to reach out to those who could benefit from our services and be involved in the community around us. Our deep roots will continue to lead to extraordinary new growth.
To learn where we are currently serving, click here. To learn more about us, click here.
About the Author
Pam Sullivan, Vice-President of Strategy and Communications, joined the team in 2004 in the Donor Relations department. Since then, she has held various positions include Donor Relations Director, Executive Director of Marketing and Vice-President of Engagement. Pam is responsible for internal and external communications, branding and brand messaging, crisis communication and guiding and supporting strategic initiatives. She is a "go to" in figuring out new projects and building a work flow.