Every July, Christian Living Communities team members step up and answer the call to "Give a Hand" during our annual employee giving campaign. Joining the call to action is CLC's long-time campaign sponsor and partner, Bellco Credit Union.
Bellco and CLC have a powerful partnership that stretches back more than a decade benefitting both residents and team members. Inspired by the generosity of CLC team members, who came together to raise $28,000 last year in support, and a belief in CLC's mission, Bellco continued their support once again this year with an $8,000 sponsorship. The funding will support both the Resident Assistance Fund, helping qualifying residents continue to receive the services and care they cherish, and the Team Member Critical Needs Fund which offers emergency grants for qualifying team members who need extra support for housing, transportation, or medical expense shortfalls.
"Bellco's commitment to the community focuses on Financial Education, Quality of Life, and Arts & Culture. Bellco is proud to continue its support of CLC."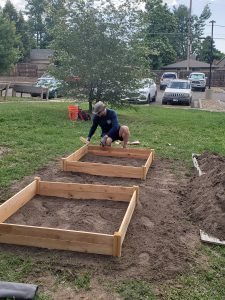 In June, Bellco volunteers demonstrated their commitment to "Quality of Life," to a much-needed garden revival project at CLC's Dayspring Villa, an Assisted Living Community in Denver. Michael, Mallik and his wife Nagu and their son Aanu built two new garden beds, weeded, and replenished the soil in four raised garden beds. They also did a trash clean-up around the property and parking lot. One resident family member pulled up while they were out collecting trash and thanked them wholeheartedly.
"It's important to me, as well as Bellco, to give back to the community. We are grateful for the opportunity to volunteer and revitalize the outdoor garden space at Dayspring Villa for their residents. My family and I loved the experience, and the great hospitality by the Dayspring Villa staff." – Mallikarjuna (Mallik)
Corporate partners like Bellco make it possible for CLC to provide quality services and care for residents as well as support dedicated team members who daily demonstrate their huge heart for residents.
Thank you to the entire Bellco team! We are truly grateful for all you do for Christian Living Communities.
For more information on how your company can become a champion for older adults, please contact Stormie Foust Maley, Annual Giving Manager, at 720-974-3642 or by email at sfoust@clcliving.org.