Communities Coming Together
As part of our We! Care program at Christian Living Communities and Cappella Living Solutions, in each of our older adult communities, owned and managed, we wanted to find a way to support our team members after a long season of COVID-19 and its affects. One of the ways we came up with was our 2021 Back to School Supply Drive. Our team members on the front lines have experienced exhaustion and burn out, and we felt that for those who are feeling the impact financially, we'd provide a way to come alongside of them and help them with school supplies for their school-aged children or grandchildren.
We know that families are hurting right now, and we wanted to lift them up in a small way to show We! Care, not only as an organization but as co-workers, residents, board members and community members. We have found that people are looking for ways to show love, to get involved, rise to the occasion to show support for others, and to not be locked down but out and about and thriving! Boy did they turn out!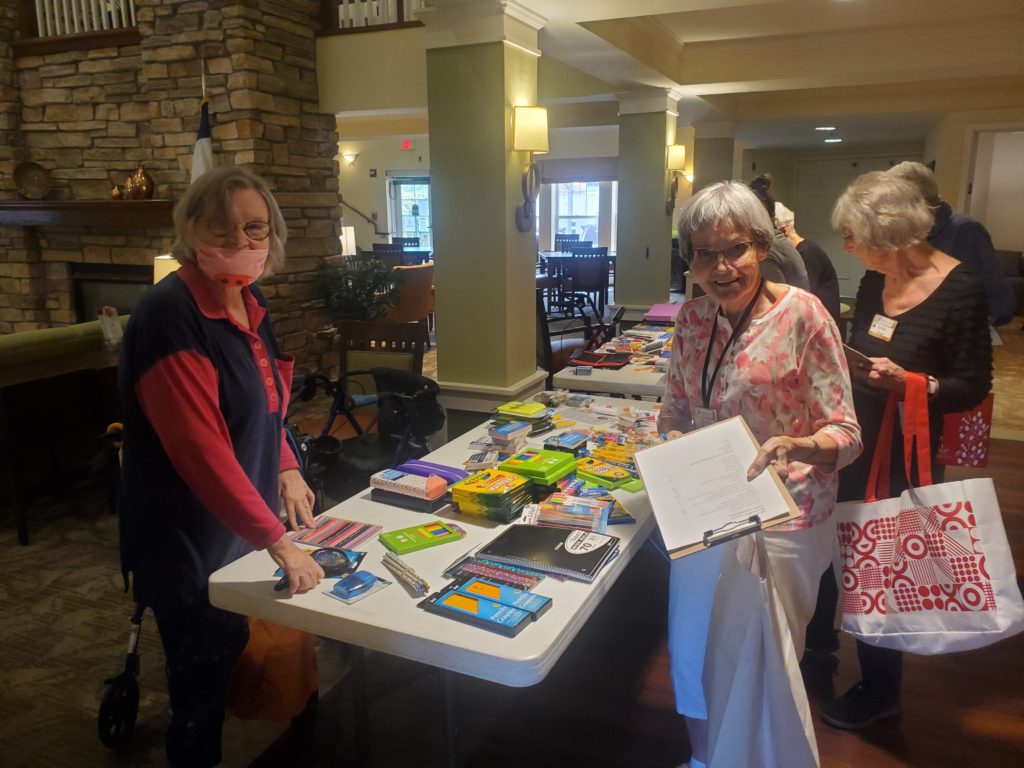 At our Eagle Pointe Support Office (EPSO), we provided each community with their own flyer to get the word out to the staff, residents, businesses, and churches in their local communities. Each community decorated their own supply drop off box, then placed them in their lobby, and took donations mid-July to mid-August as the school year was preparing to begin – even the EPSO had a supply drop off box. The support and donations that came in across all twenty-two communities was phenomenal. Each community was excited to take this on in their own way, get creative, and get the residents involved, and what we found through this project is that we have some real creative go-getters in our older adult communities – team members and residents!
It was fun to see team members so excited to bring in donations for their co-workers. Board members and residents brought in donations and made significant monetary donations to buy supplies (backpacks and general school supplies), i.e., Someren Glen had almost $500 in monetary donations. They helped over 30 SG member families, and EPSO was able to donate two full backpacks to a legacy community as well as donate 14 full backpacks to Lowry Elementary School in Denver Public Schools, where a EPSO team member's husband is a 4th grade teacher, where they serve low-income/homeless students. They were so grateful and felt very blessed to receive these donations. Dayspring Villa and Demaree Crossing shared their donation box pictures with us as well! This project was a HUGE hit, and we can't wait to do it again next July!