Would you like to attend this event?
We're each just 14 minutes away from more impact than we've ever believed possible!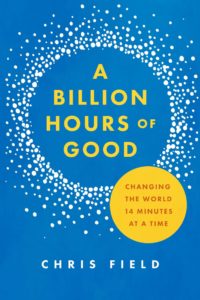 Join Chris Field, author of A Billion Hours of Good: Changing the World 14 Minutes at a Time, for an inspirational keynote presentation on leveraging our talents and skills to create massive transformation in our communities and beyond.
Chris's message of compassion, courage and creativity aligns with all that we do.
"It's a prescription to leading a life of service that makes all of humanity better!" -Mark Roenigk
Join us via Zoom at https://us02web.zoom.us/j/88654897466.